Hunt Valley, Maryland / September 30, 2022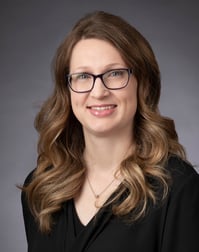 IA&B has announced the three recipients for the 3rd annual IA&B Young Agent Award. This year's award winner for the state of Maryland is our very own Jennifer McClure of Diversified Insurance Industries in Hunt Valley, MD. As a 'Young Agent,' Jennifer was recognized as a "rising star" in the independent agent community and was selected for outstanding commitment to her profession and community.
The award criteria includes having been employed for one year or more by an IA&B Member in PA, MD, or DE, recognized as a licensed P&C agent, at the age of 40 years old or younger, having made community contributions through volunteering or service, an example of emerging-leader status in the field, and having participated in IA&B events, education, or other happenings.
As the award suggests, Jennifer embodies each of these honorable qualities. As a licensed agent at DII in Hunt Valley, Jennifer works as a Client Relationship Manager and has accumulated over 20 years of industry experience while only at the age of 39. Jennifer got her start in the insurance industry by answering an ad for a receptionist position at an independent insurance agency. She quickly progressed to an assistant account manager position where she helped service a niche book of business: doctors and homebuilders. A few years later she was promoted to an account manager where she serviced primarily small business accounts. Aside from her various tasks of the day servicing our larger complex accounts, Jennifer also wears a remarkable leadership hat at DII.
"My day is filled with a variety of tasks. Time management is crucial when multitasking. I start with checking my scheduled appointments and calls. [... and then] I determine what is urgent, what is important, and what can be delegated. Another portion of my day is helping new team members learn our procedures and assisting existing team members with their needs. As no day really goes as planned, I end my day with reviewing the progress on my to-do list so I know what needs to be carried over to the next day."
When asked what her favorite part of the job was, Jennifer responded:
"I absolutely love building relationships with clients. I especially like it when I get to build their insurance program from the group up; it gives me a sense of accomplishment. I really enjoy watching my clients grow their business operations and being reported as a value business partner. One of my passions is serving others, and I get to do that every day!"
Jennifer remarks being fortunate enough to have a professional mentor at the beginning of her career. During her early time as an account manager, she mentions she was asked to handle the book of business for a producer which consists of larger accounts.
"I jumped at the opportunity. He taught me how to prepare a marketing submission, analyze claims, and negotiate premiums. He also taught me how to build relationships with clients and carriers. He was my greatest motivator to obtain my CIC designation."
In her opinion, Jennifer's greatest professional accomplishment that she is most proud of is her CIC designation. This status takes a lot of time and effort to study for the various exams, and yet she was able to push herself to complete them in under 2 years.
"I have always enjoyed learning. The insurance industry is constantly evolving, and I really enjoy the continuing education classes this program offers, especially the Ruble seminars that drill down into the specifics."
In 10 years, Jennifer hopes to be an operations manager with a focus in career development coaching for employees. To achieve this, she wants to expand upon her experience given to her in her current supervisor role that has shown her a love for helping her teammates learn more about coverages and providing value-added services to clients. Aside from her impressive long-term goals, Jennifer has also mastered her work-life balance. Outside of work, she's all about rest and relaxation.
Jennifer's full post-award interview answers and additional information about the Young Agent Award can be found in the October issue of Primary Agent by IA&B. The online version can be found at: https://issuu.com/primary_agent/docs/october-2022.

About DII
Our clients have trusted us as their partner and advisor for over 50 years – since 1969. We have earned this trust by developing plans that help our customers be more competitive. We provide thoughtful, continuing coverage so business owners can spend their time running their businesses instead of dealing with the consequences of unanticipated risk. Our goal is to provide a clear and beneficial match between our clients' needs, their risk management choices, and their insurance coverage. At DII we build relationships, protect what matters, and serve when needed.