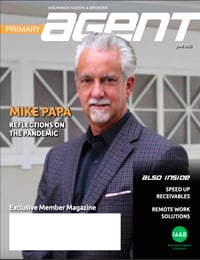 DII is proud to announce that an interview with Mike Papa, our SVP and director of Underwriting, was featured on the cover of Primary Agent Magazine. In the article, he reflects on the emergency remediation needed by many DII clients when the COVID-19 pandemic hit, and predicts how the pandemic may have changed the industry going forward. His reflections on agency management and the long-term impacts of COVID-19 provide insight into the future of insurance agencies and brokerages nationwide.
Papa is the chairman of IA&B of Maryland, providing agency leadership throughout the region.
Click here to read the article in the June issue of Primary Agent Magazine.